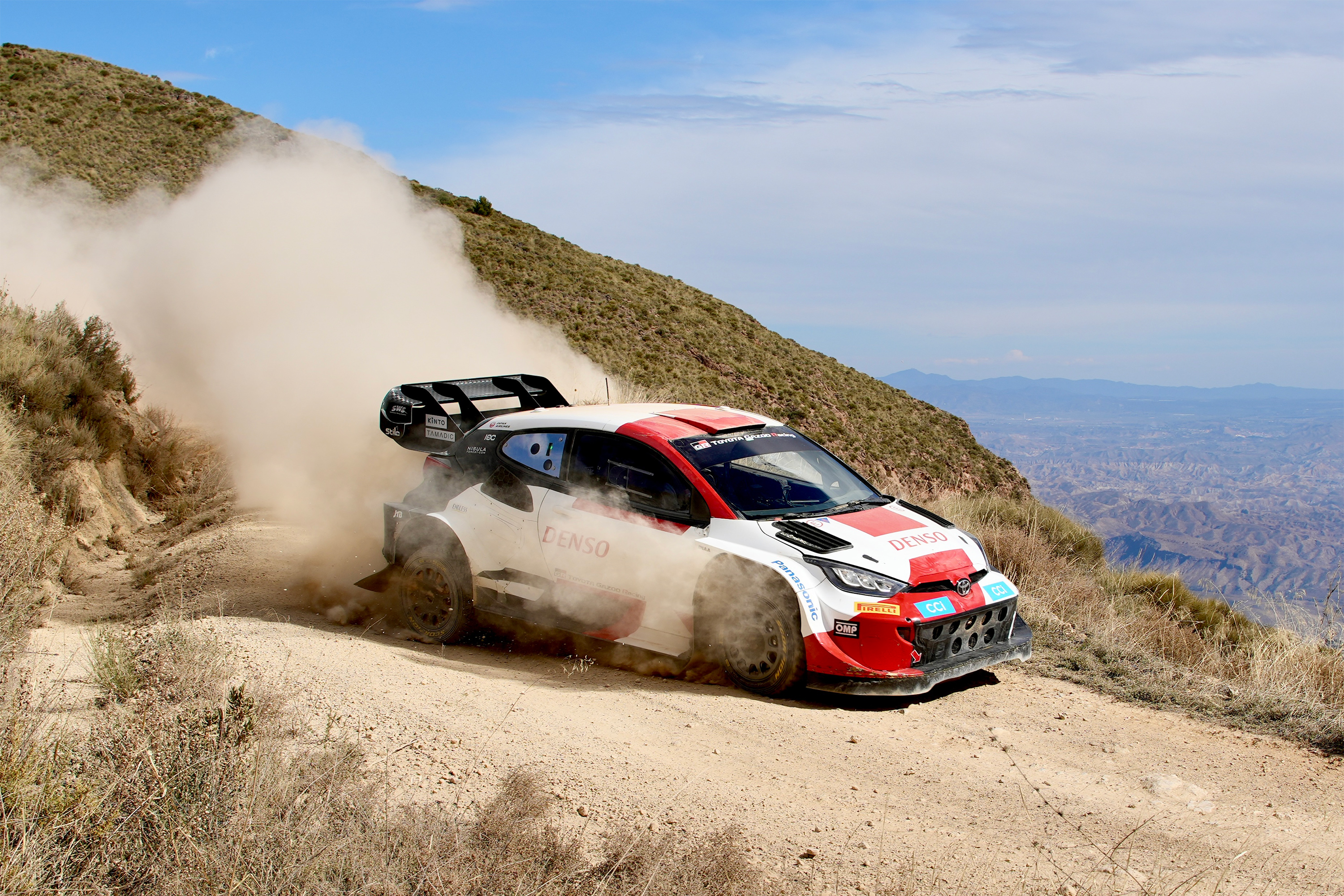 Rally México: PreviewTOYOTA GAZOO Racing targets new heights with GR YARIS Rally1 HYBRID
TOYOTA GAZOO Racing World Rally Team will take on new challenges with its GR YARIS Rally1 HYBRID contender when Rally México makes a much-anticipated return for round three of the 2023 FIA World Rally Championship season.
This will be the championship's first visit to Mexico and to the American continent since 2020. As well as being the first gravel round of the season, with ambient temperatures as high as 30°C providing a stark contrast to the winter conditions of Rallye Monte-Carlo and Rally Sweden, the event is set to provide a major new test for the latest generation of Rally1 cars that were introduced last year.
In the mountains of the Guanajuato region around the city of León, the stages climb to the highest point of the season at more than 2700 metres above sea level. At such high altitude, the thinner air can reduce the power of internal combustion engines by as much as 20 per cent. The additional 100kW boost of electric power provided by the Rally1 cars' hybrid units could therefore prove particularly valuable, but the reduced air available for cooling combined with the rough gravel roads will pose a tough test for reliability as always. An added complication is that testing outside of Europe is prohibited, with TGR-WRT recently heading to southern Spain to try and simulate the likely conditions as best as possible.
The team will hope to repeat the breakthrough first Rally México victory it achieved on its last visit three years ago with Sébastien Ogier. The Frenchman has six previous wins in total in Mexico – a joint record – including in each of the WRC's last three visits and will return to the team's line-up to make his second start of 2023, following his victory on Rallye Monte-Carlo in January. He joins the team's full-season drivers Kalle Rovanperä and Elfyn Evans in being nominated to score manufacturers' points, with Takamoto Katsuta making his Mexican debut in a fourth car with the support of the TGR WRC Challenge Program.
The rally takes place around 400 kilometres northwest of the capital Mexico City, and the always-enthusiastic local fans are sure to be out in force for the popular opening stage in the historic city of Guanajuato on Thursday night, when each driver will do two runs through the cobbled streets and old mining tunnels.
A repeated loop of three stages in the hills above Guanajuato on Friday begins with the familiar El Chocolate test. The day concludes with two super special stages on the way back to the service park in León, including the new Las Dunas test that will be driven four times across the weekend. Saturday focuses on the Sierra de Lobos mountains when another loop of three full-length stages will be run twice. Sunday's finale features four different stages, with Las Dunas followed by the longest test of the weekend: the 35.39 kilometres of Otates. The last two stages feature sections already driven twice in Saturday's Derramadero test, with the rally-ending Power Stage to finish over El Brinco's eponymous jump.
Quotes:
Jari-Matti Latvala (Team Principal)
"We are really excited to going back to Mexico after a couple of years away. There is usually a great atmosphere there and the rally has always been a difficult challenge for the teams and drivers. You have to be able to manage many things with the heat and the altitude, and this will be our first time going to Mexico with this car, and therefore the first time running the hybrid technology in those conditions. Reliability will be key and our team has been working hard to prepare as well as we can. Road position is usually a big factor too but I think our drivers should be in a good place at the start with strong possibilities to fight. We're looking forward to it and to hopefully be competing for victory again."
Kalle Rovanperä (Driver car 69)
"It's nice to be going back onto gravel after quite a long time, and it's been especially long since we were last in Mexico. I'm sure it's going to be a tricky event like always; with the high altitude it's one of the most specialised gravel rallies on the calendar. But it's really exciting to go back there. As a team we have been doing a lot of work to improve the car and the pace for rough gravel conditions, and it was nice to see already in our recent test in Spain that we're definitely moving in the right direction. I'm quite happy not to be starting first on the road in Mexico – just one position can make a big difference. It might still be tough compared to those starting behind us, but we will of course do our best."
Elfyn Evans (Driver car 33)
"It is good to have Mexico back on the calendar this year. It's an event that always provides a bit of a culture shock in terms of the climate compared to the first two rounds, and it's always a big challenge. This will be our first time back at that really high altitude for a few years, and we can always expect a lot of heat and dry gravel. It's very difficult to replicate those conditions when testing in Europe at this time of year, but we tried to simulate it as much as possible. When the roads are dry and loose then traction is key, and we've worked on all areas of the car to try and optimise every aspect and be as ready as we can be."
Sébastien Ogier (Driver car 17)
"When I knew that Rally México was coming back, I straightaway had to mark it in my calendar as an event that would be nice to do again. It's where everything started for me in the WRC, as it's actually where I made my debut in 2008, and since then there have been many good memories and a lot of success there. The atmosphere is always nice, with beautiful stages too. I hadn't really driven on this type of gravel since Portugal last year, so the recent test in Spain was important for me to find the best possible feeling. It will be interesting to see how the hybrid can help against the usual loss of power we feel at high altitude. More than ever it could be important to use it as efficiently as possible because it could make a big difference to the performance."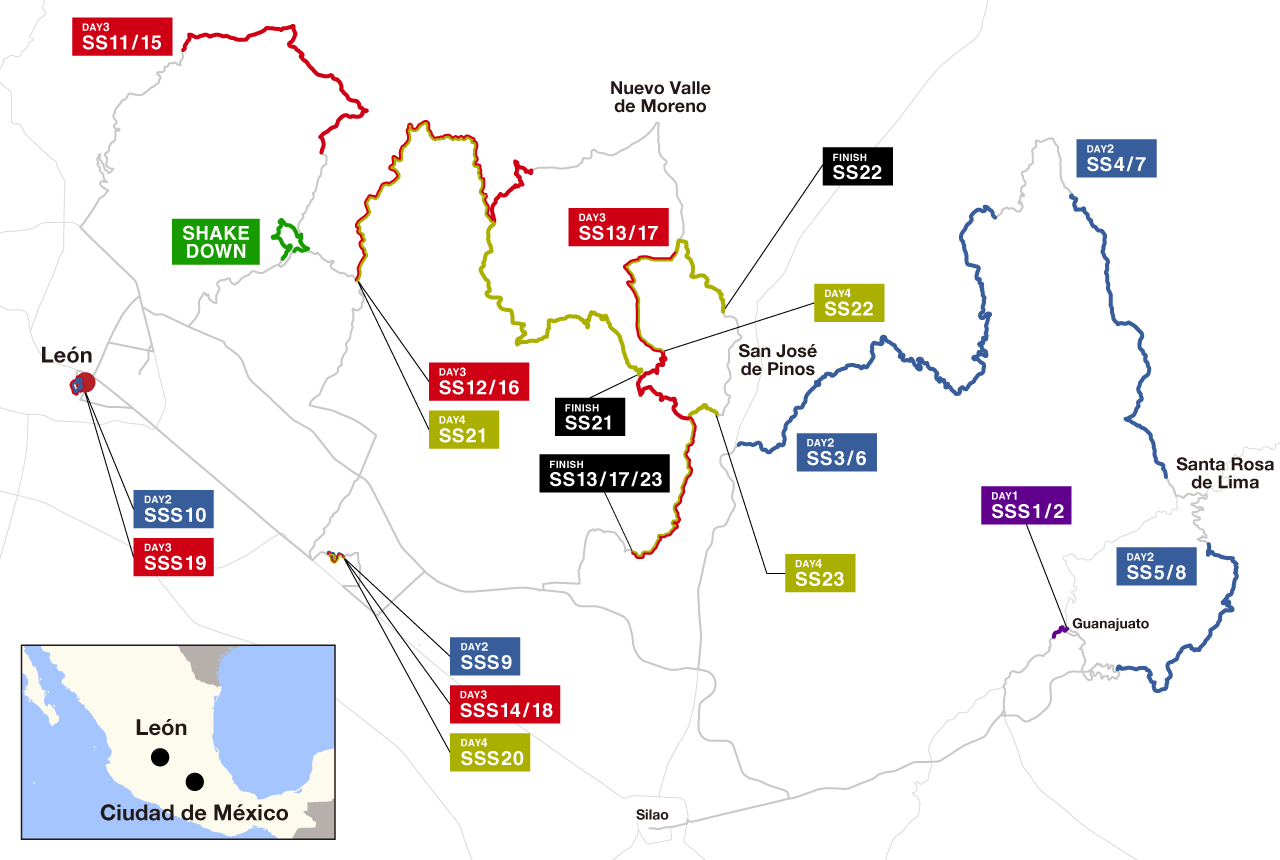 Map Rally México 2023
(Please visit www.wrc.com for the latest.)
Follow us!
Follow TOYOTA GAZOO Racing WRT:
Facebook: https://www.facebook.com/TOYOTAGAZOORacingWRC
Twitter: https://www.twitter.com/TGR_WRC (@TGR_WRC)
Instagram: https://www.instagram.com/tgr_wrc/ (@TGR_WRC)
YouTube: https://www.youtube.com/channel/UCCtALHup92q5xIFb7n9UXVg