August 7, 2022
Toyota Motor Corporation
GAZOO Racing Company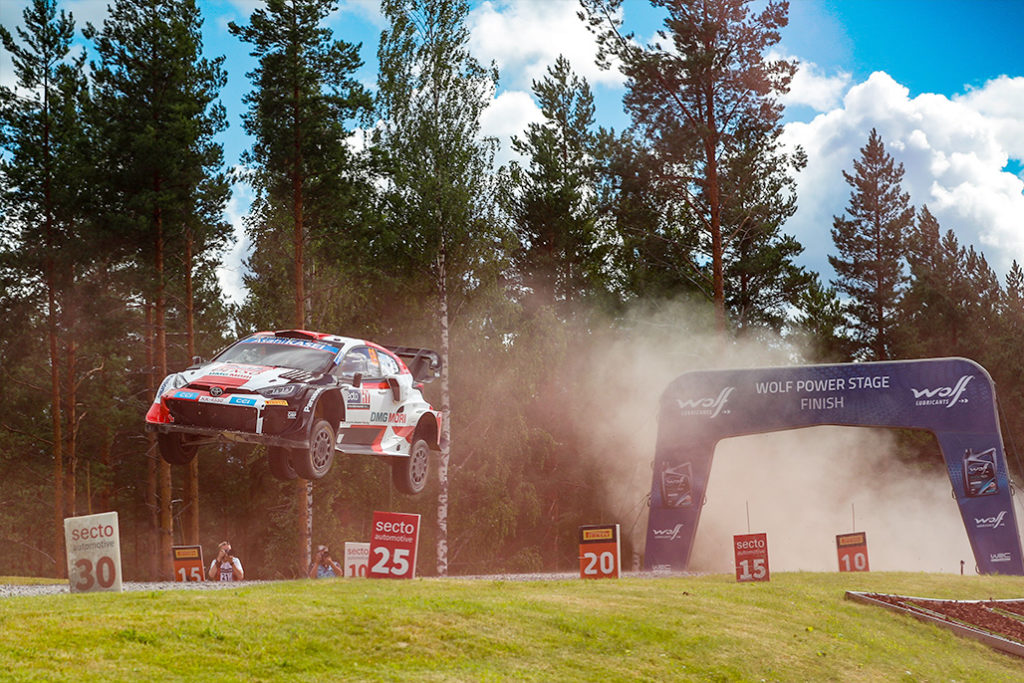 Rally Finland: Day 4
Rovanperä extends WRC lead with rapid home run for TOYOTA GAZOO Racing
TOYOTA GAZOO Racing World Rally Team's Kalle Rovanperä has further extended his FIA World Rally Championship lead with a well-calculated drive to second place on a ferociously fast Rally Finland, as team-mate and fellow Finn Esapekka Lappi survived remarkable late drama to join him on the podium at their home rally.
Tasked with sweeping the gravel roads around their hometown of Jyväskylä, Rovanperä and co-driver Jonne Halttunen ended Friday 21 seconds from the lead and fourth overall on a rally known for high speeds and narrow margins. Willed on by the local support in the spiritual home of rallying, Rovanperä was then rapid through the longest day of the rally on Saturday and fastest in six out of eight stages to climb to second overall and slash the gap to the leader to 8.4s.
He thus went into the final day still eyeing a famous home win, but was not in a position to risk everything while on course to strengthen his grip on the championship and ultimately had to settle for second place, only 6.8s behind Ott Tänak. He did however take the maximum five bonus points for the fastest time in the rally-ending Power Stage, which increases his advantage to 94 points with five rallies remaining.
The first Rally Finland for the new generation of hybrid Rally1 cars was the fourth-fastest WRC round of all time, and the incredibly close lead fight required drivers to have good confidence in their cars despite limited testing on such roads. The GR YARIS Rally1 HYBRID recorded the quickest time in 15 of the 22 stages.
Lappi led the Toyota charge through Friday and much of Saturday, before a freak incident with a rock that deflected up and damaged his windscreen, hampering visibility. He was to encounter further drama in the penultimate stage of the rally, which was heavily rutted. One such rut on the exit of a corner caused him to roll over three times. He was able to complete the stage while losing only 20 seconds and remaining third overall, but he and co-driver Janne Ferm had to carry out roadside repairs including removing the car's windscreen and topping up a radiator. Incredibly, despite the obvious damage, they lost only 10 further seconds in the final stage to hold onto third by a relatively comfortable 16.9s and score their second podium of the season.
Like his team-mates, Elfyn Evans was also part of the thrilling lead battle for much of the weekend before having to make repairs of his own after damaging his suspension on Saturday afternoon. He and co-driver Scott Martin still finished fourth overall and took third in the Power Stage: Points that ensure TGR increased its manufacturers' championship lead by one point to 88.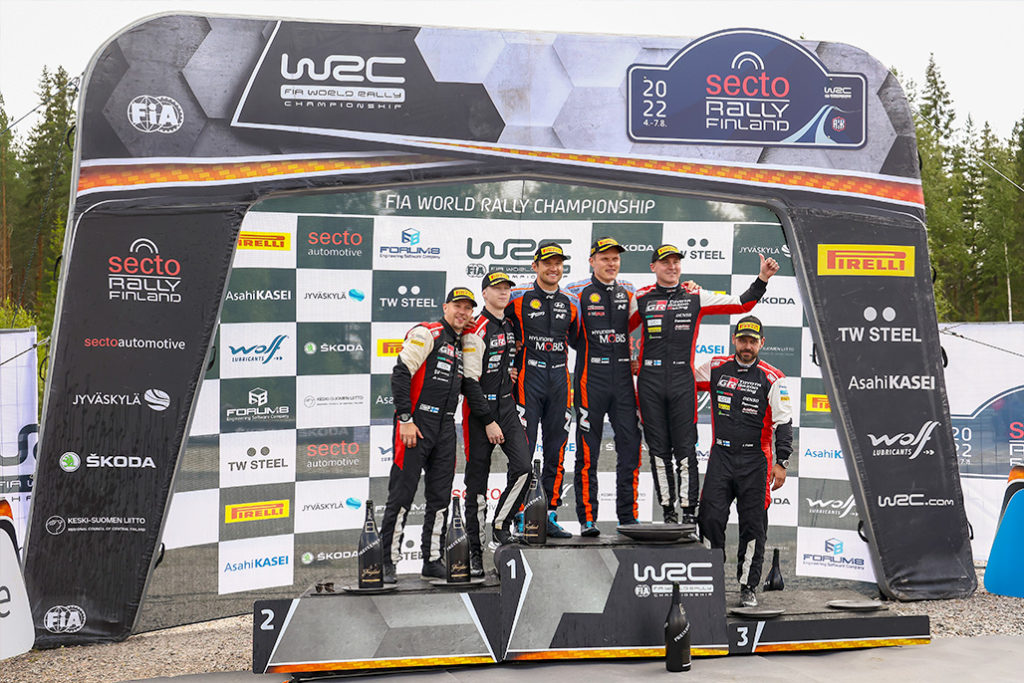 Takamoto Katsuta and co-driver Aaron Johnston ensured there were four GR YARIS Rally1 HYBRIDs inside the top six for almost the entire rally. By finishing sixth they continue their unbroken 2022 scoring run for TGR WRT Next Generation after Katsuta's strongest performance yet on the roads around his Finnish hometown.
Quotes:
Akio Toyoda (Team Founder)
"This year there are two home rallies for us, and Rally Finland was the first one of them. We received great support from fans and the city of Jyväskylä. I would like to thank everyone for that. We weren't able to pay back our appreciation by winning the rally. The whole team, and especially the local heroes, Kalle and Esapekka tried very hard and did well, but we were one step short. I'm sure we will have a huge support as well at Rally Japan, which is our other home rally. The team will continue working hard together and we will definitely respond to their cheers and return the favour with victory.
There are four events before that, and the next one is already in two weeks in Belgium. I recognise that the team is so busy and working hard that they haven't been able to take enough summer holiday. I really appreciate the team's effort and support from their families. When I get the opportunity to meet the team after a long time, I would love to greet and express my gratitude to each and every member of the team in person. I'm looking forward to the chance to come."
Jari-Matti Latvala (Team Principal)
"Of course, there is a little bit of disappointment not to win, but we have to see the bigger picture. Overall we still had a good weekend, with two cars on the podium, another in fourth and Taka in sixth as well. If you want to win this rally, you have to drive flat-out: you cannot think about anything else. Tänak was going all-out for the victory and he did a fantastic job. Kalle had to think about the championship. He still came very close to the win but he was doing a clever job, bringing the points home and still attacking in the Power Stage to increase his championship lead. It was incredible to see Esapekka make it to the podium as well after his roll."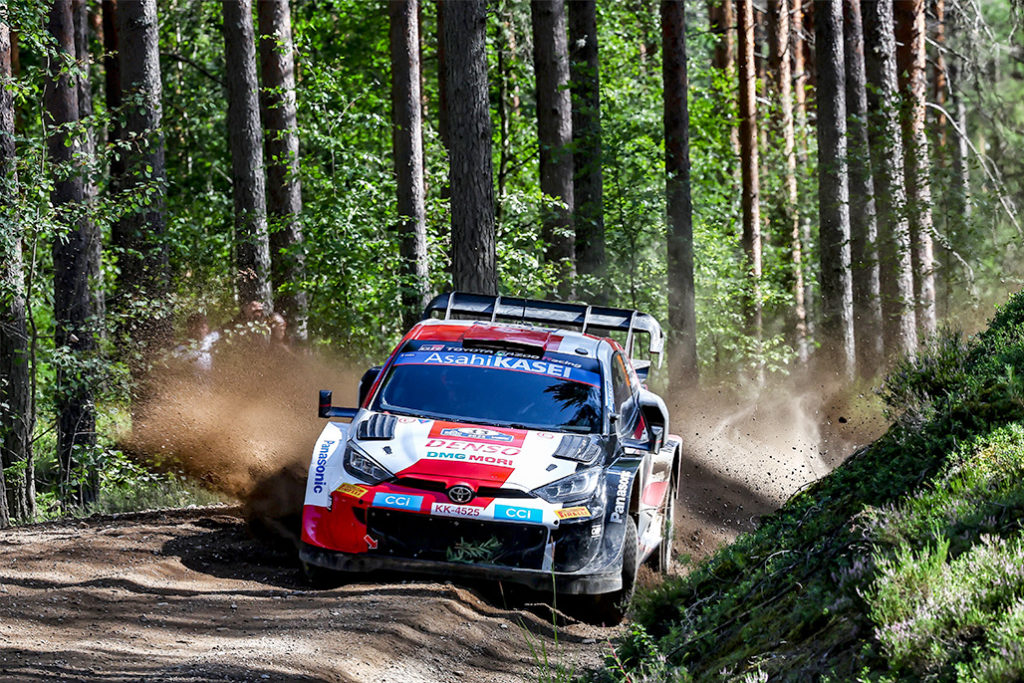 Elfyn Evans (Driver car 33)
"It's been a bit of a frustrating weekend. At times I've not felt too bad but at others I've struggled a bit with the feeling in the car, a bit more than in other weekends. The car was good but I was just missing that last bit of confidence from it. We were changing quite a lot during the weekend to try and find that but sometimes that can just make things worse. Today we weren't really in a close fight so we took the opportunity to try something a bit different. In the Power Stage I wasn't really satisfied with my run but we still got a few extra points which is always helpful."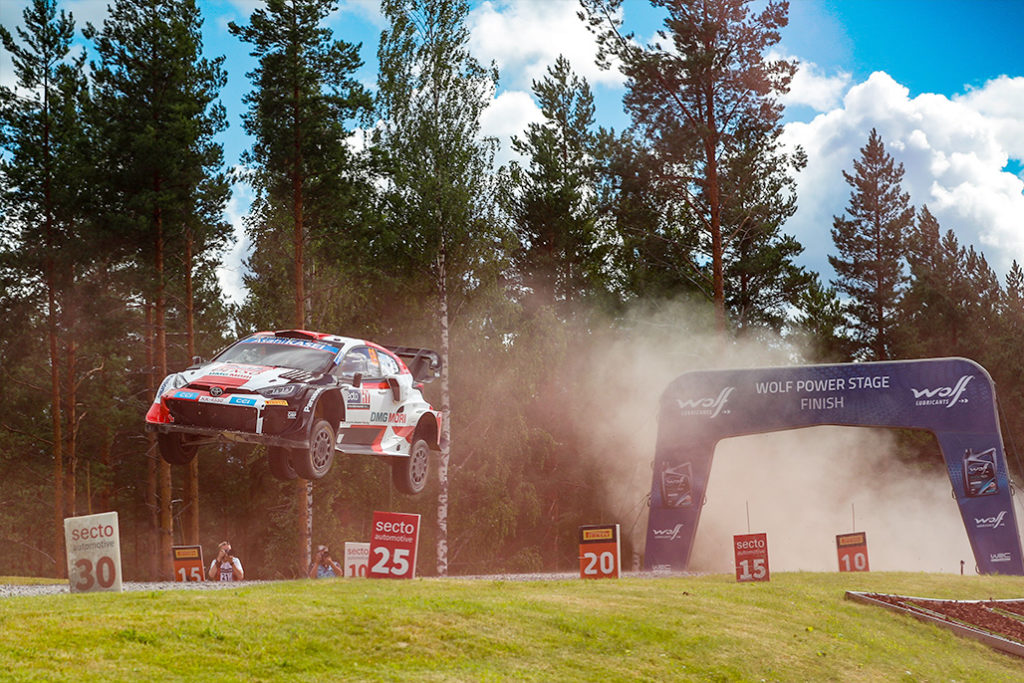 Kalle Rovanperä (Driver car 69)
"It was a tough fight this weekend but overall I think we can be happy. This morning it was quite clear that it would not really be possible to catch Ott when he was taking risks which I didn't need to take. So I was just trying to stay close, match his speed, and then on the Power Stage we pushed again and got the five points. Of course I would have liked to win at home but I think we can be quite proud of what we did given what I was expecting with the road-cleaning on Friday. We tried to catch up, we couldn't quite do it but we still have a bigger points lead than before."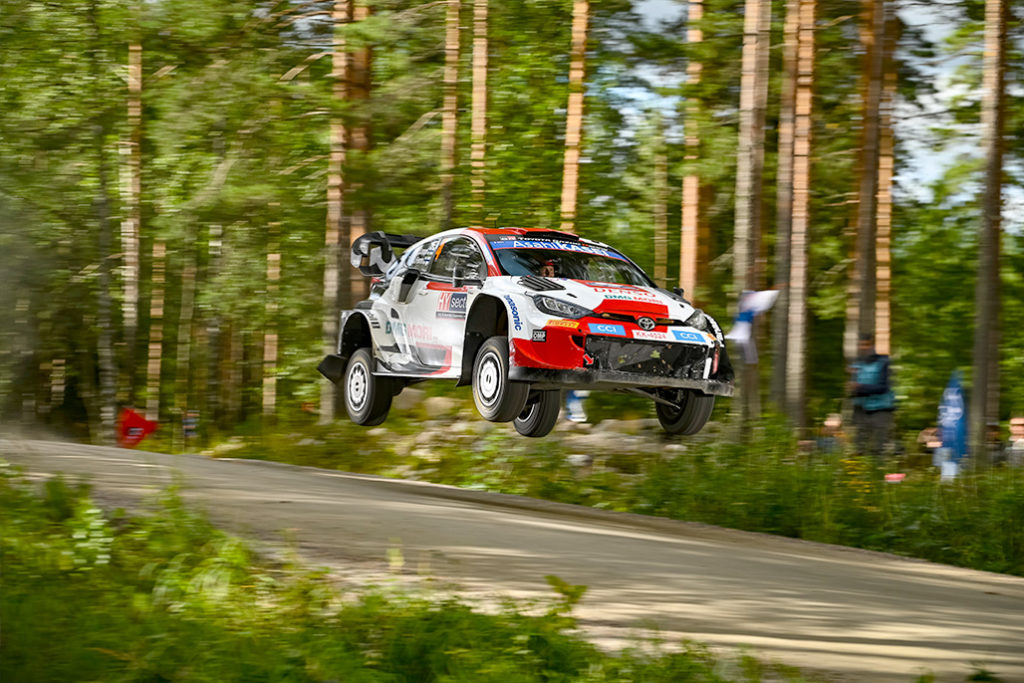 Esapekka Lappi (Driver car 4)
"It's so good to be here at the finish. After a lot of bad luck, including yesterday, we were lucky today that we were able to continue after the roll. It was a big surprise: I know the corner very well, I saw on the first pass that there was space on the exit you can use, but now there was a huge rut which caused the car to roll immediately. Thankfully this is the Rally of 1000 Lakes and we could get some water for the car. We managed to fix every issue and get to the Power Stage, and then we lost most of the roof on the first acceleration so there was a lot of wind and noise in the car. It was a bit too much action for one rally, so I have some mixed feelings, but I'm happy to be on the podium."
PROVISIONAL FINAL CLASSIFICATION, RALLY FINLAND
1 Ott Tänak/Martin Järveoja (Hyundai i20 N Rally1 HYBRID) 2h24m04.6s
2 Kalle Rovanperä/Jonne Halttunen (Toyota GR YARIS Rally1 HYBRID) +6.8s
3 Esapekka Lappi/Janne Ferm (Toyota GR YARIS Rally1 HYBRID) +1m20.7s
4 Elfyn Evans/Scott Martin (Toyota GR YARIS Rally1 HYBRID) +1m37.6s
5 Thierry Neuville/Martijn Wydaeghe (Hyundai i20 N Rally1 HYBRID) +2m18.0s
6 Takamoto Katsuta/Aaron Johnston (Toyota GR YARIS Rally1 HYBRID) +3m09.0s
7 Gus Greensmith/Jonas Andersson (Ford Puma Rally1 HYBRID) +3m57.0s
8 Teemu Suninen/Mikko Markkula (Hyundai i20 N Rally2) +9m31.3s
9 Emil Lindholm/Reeta Hämäläinen (Škoda Fabia Rally2 evo) +9m39.0s
10 Jari Huttunen/Mikko Lukka (Ford Puma Rally1 HYBRID) +10m31.6s
(Results as of 16:00 on Sunday, for the latest results please visit www.wrc.com)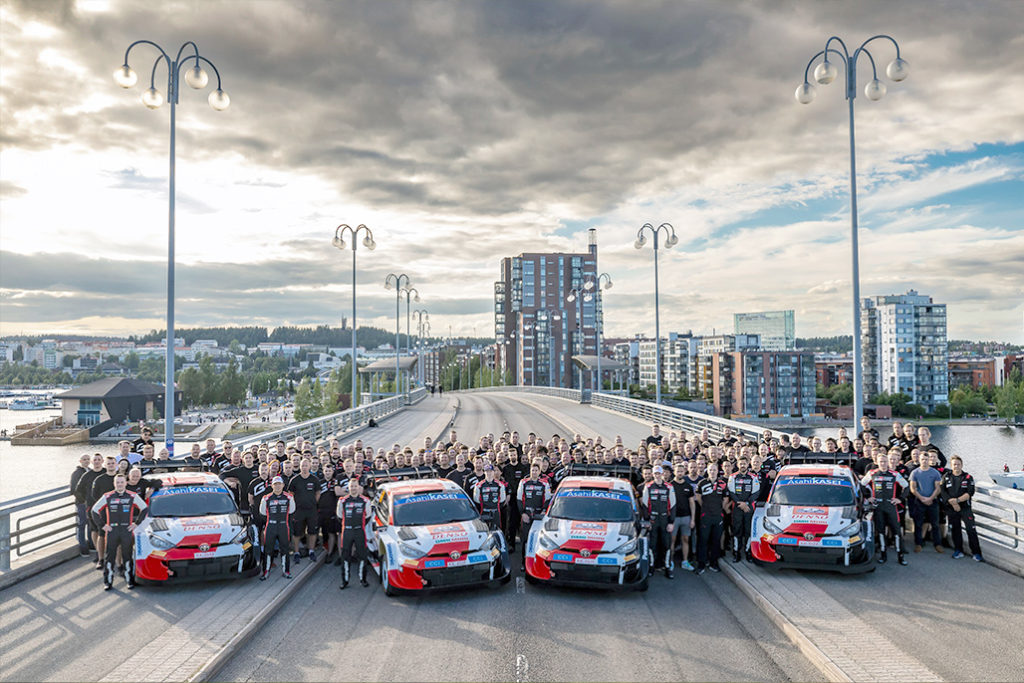 What's next?
Ypres Rally Belgium (August 19-21) ran as a WRC round for the first time in 2021 but has a long-standing reputation as a classic and demanding asphalt rally, known for its fast but narrow farmland roads lined by large ditches.
– END –