August 21, 2022
Toyota Motor Corporation
GAZOO Racing Company
Ypres Rally Belgium: Day 3
Another double podium for TOYOTA GAZOO Racing
The TOYOTA GAZOO Racing World Rally Team has scored another double podium finish at Ypres Rally Belgium as Elfyn Evans finished just five seconds away from victory in second position with Esapekka Lappi in third.
Car 33 (Elfyn Evans, Scott Martin)
In their second time hosting a round of the FIA World Rally Championship, the farmland roads of the West Flanders region again lived up to their historic reputation as one of rallying's most demanding asphalt tests with frequent surface changes and little margin for error.
Kalle Rovanperä was one of many drivers to be caught out when he rolled on Friday morning's second stage: a first significant setback in what has been an outstanding season so far from the young Finn. An extensive rebuild of his car by the team's technicians allowed Rovanperä and co-driver Jonne Halttunen to return under restart rules the next day and target points in the rally-ending Power Stage over the famous cobbled climb of the Kemmelberg. There they set the fastest time to leave Belgium with their championship lead still a commanding one at 72 points with four rounds remaining.
Evans and his co-driver Scott Martin took over the lead when Rovanperä dropped out, but a slow puncture that compromised their tyre strategy and a 10-second penalty for arriving late to one stage meant they ended Friday third overall and 13.7 seconds from the lead. Having fought back on Saturday and gained second overall, Evans continued to close the gap to the leader Ott Tänak with two stage wins on the final morning, but just fell short in the end.
Lappi and co-driver Janne Ferm scored their third podium from six starts and second in as many weeks with a superbly consistent and clean weekend on a rally where their only previous experience came eight years ago, having already had top-four pace from the start. The result ensures TGR still has a strong lead of 88 points in the manufacturers' championship.
Takamoto Katsuta recovered from an issue on Friday morning to finish fifth in his TGR WRT Next Generation entry with co-driver Aaron Johnston, and is now the only driver to have finished every rally in the top 10 this season.
The public debut of the innovative GR Yaris H2 concept took place on the stages in Belgium, and was completed by Toyota rally legend Juha Kankkunen driving the Power Stage ahead of the competitive field in the hydrogen-fuelled car, running on Pirelli tyres. After driving the GR Yaris H2 himself on Saturday, Team Founder Akio Toyoda had the chance to ride alongside Kankkunen on the most varied stage of the weekend before greeting his drivers at the podium.
Quotes:
Akio Toyoda (Team Founder)
"First of all, I would like to express my appreciation to the mechanics. Before I joined the team on Saturday morning, the news about Kalle and Jonne came in. It was similar to what happened to Esapekka and Janne in Finland, but it seemed goggles wouldn't help the situation this time. I was disappointed that I might not be able to see Kalle's driving, but I got a message late at night that the repair was done and the team was waiting for my visit next morning. I really thank the mechanics for working very hard to fix the car for Kalle and Jonne. Thanks to them and all involved, I was able to see all four cars of TGR running up close.
Also, thanks to the support and cooperation by many parties such as FIA, WRC Promotor, and the organiser, we were able to let WRC fans hear the exhaust sound of a hydrogen engine. Motorsport is really a sport. I believe people get excited because sports stimulate our five senses, and that's why I want to keep the engine's vibration and exhaust sound in motorsports. While we are trying to achieve carbon neutrality, we still want to keep the excitement. It was great that we were able to share that feeling in Europe.
To be honest I wanted to stand on the podium with the crews. This time I watched Elfyn, Scott, Esapekka and Janne a bit far away from the podium, but there is another chance for me to stand there this year. I'm looking forward to the next chance at Rally Japan in November and I will get soaked in champagne with them then. (And of course I expect wins in the other rallies as well!)
P.S. to Ott
Congratulations on your victory! I sent a message to you in December 2019 saying "let's meet on the podium again and I will spray champagne at you". It didn't come true in Belgium, so it must happen in Japan for sure!"
Jari-Matti Latvala (Team Principal)
"To have two cars on the podium is a good result at the end of the weekend. We had the speed here, we were more competitive than last year and the car was performing well, it's just that a few things didn't go our way. Elfyn has been getting closer to that victory, it was a good weekend from him. He did a really good push this morning and there was just a bit too much to do with only four stages today. It was an absolutely perfect drive from Esapekka: exactly what we wanted from him this weekend and really helping us in the manufacturers' championship. And we also saw Kalle showing how strong a driver he is after the disappointment of Friday, and by winning the Power Stage he's still in a strong position in the championship. Finally, it was fantastic to have Akio with us following the rally and experiencing the stages himself with hydrogen power alongside Juha Kankkunen. It shows just how much he loves motorsport and we can be really grateful to have his support."
Elfyn Evans (Driver car 33)
"You can never be completely happy to finish second but it's been a strong weekend overall. There were just a few unfortunate things that cost us some time here and there, but that's rallying and it's part of the game. The car has been good and it was nice to be in the fight from the beginning of the rally. We made some good steps for the final day with the setup and I feel really comfortable with where we've ended up at the end of the rally. Today we tried to keep the pressure on Ott, and we knew it was a bit of a tall order with the limited kilometres we had left but we clawed back some time; as we expected it just wasn't quite enough."
Kalle Rovanperä (Driver car 69)
"Of course it has not been the best weekend, but the season has been good until this point and sometimes mistakes happen. After the crash on Friday I think we did everything we could as a team to bounce back which was important, and it was a nice way to thank the mechanics for the great work they did repairing the car. In the Power Stage it was not easy to step up the pace after driving quite safely before that, but it was good to get the maximum five points and it means that the gap in the championship hasn't closed too much. We just need to keep getting good results, starting in Greece."
Esapekka Lappi (Driver car 4)
"I'm very satisfied with the job we did this weekend. Third position on this rally is a very good result for us and it's good for the team as well. I wasn't really expecting this kind of result before the rally, having not been here for eight years. We were not the fastest but other drivers were making mistakes and we didn't really do any and this paid off in the end. A final day like today is always tricky when you're in a good position and you want to finish the rally but we managed to get through it."
PROVISIONAL FINAL CLASSIFICATION, YPRES RALLY BELGIUM
1 Ott Tänak/Martin Järveoja (Hyundai i20 N Rally1 HYBRID) 2h25m38.9s
2 Elfyn Evans/Scott Martin (Toyota GR YARIS Rally1 HYBRID) +5.0s
3 Esapekka Lappi/Janne Ferm (Toyota GR YARIS Rally1 HYBRID) +1m41.6s
4 Oliver Solberg/Elliott Edmondson (Hyundai i20 N Rally1 HYBRID) +3m28.5s
5 Takamoto Katsuta/Aaron Johnston (Toyota GR YARIS Rally1 HYBRID) +6m06.1s
6 Stéphane Lefebvre/Andy Malfoy (Citroën C3 Rally2) +9m45.7s
7 Andreas Mikkelsen/Torstein Eriksen (Škoda Fabia Rally2 evo) +10m03.8s
8 Yohan Rossel/Valentin Sarreaud (Citroën C3 Rally2) +10m54.8s
9 Chris Ingram/Craig Drew (Škoda Fabia Rally2 evo) +11m20.8s
10 Nikolay Gryazin/Konstantin Aleksandrov (Škoda Fabia Rally2 evo) +11m26.8s
63 Kalle Rovanperä/Jonne Halttunen (Toyota GR YARIS Rally1 HYBRID) +1h10m29.5s
(Results as of 15:30 on Sunday, for the latest results please visit www.wrc.com)
What's next?
The Acropolis Rally in Greece (September 8-11) returned to the WRC calendar in 2021 after eight years away, with its legendary reputation for rocky mountain roads and high temperatures which combine to create a tough challenge for cars, tyres and drivers alike.
Car 69 (Kalle Rovanperä, Jonne Halttunen)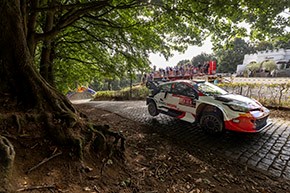 Car 4 (Esapekka Lappi, Janne Ferm)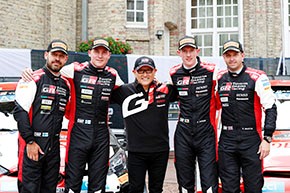 (from Left) Janne Ferm, Esapekka Lappi, Akio Toyoda, Elfyn Evans, and Scott Martin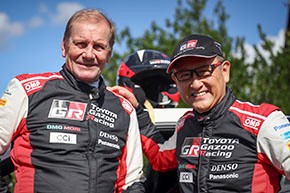 Juha Kankkunen, Akio Toyoda
Press release
URL: https://toyotagazooracing.com/pressrelease/
Press kit and Event pictures will be uploaded here
URL: https://www.tgr-dam.com
Follow us!
Follow TOYOTA GAZOO Racing WRT:
∇Facebook : https://www.facebook.com/TOYOTAGAZOORacingWRC
∇Twitter : https://www.twitter.com/TGR_WRC (@TGR_WRC)
∇Instagram : https://www.instagram.com/tgr_wrc/ (@TGR_WRC)
∇YouTube : https://www.youtube.com/channel/UCCtALHup92q5xIFb7n9UXVg
Contact
TOYOTA GAZOO Racing PR Office
Email: tgr_pr@tgr-dam.com
TOYOTA GAZOO Racing official website:
https://toyotagazooracing.com/
TOYOTA GAZOO Racing World Rally Team is supported by following partners: