Hyundai Motorsport Preview: Round 12 – Rally de España
• Hyundai Motorsport is looking to bounce back at Rally de España next weekend (October 20-23) after a disappointing result at Rally New Zealand
• The team hopes to build on its five consecutive podium finishes with another strong outing on tarmac, having taken a double podium in Croatia and victory in Belgium
• Hyundai Motorsport's line-up includes the 2021 winners of the event, Thierry Neuville/Martijn Järveoja, alongside Ott Tänak/Martin Järveoja and Dani Sordo/Cándido Carrera.
Alzenau, Germany
October 14, 2022 – Hyundai Motorsport heads to Rally de España, the 12th and penultimate round of the 2022 FIA World Rally Championship (WRC) season, aiming to finish on the top step of the podium for a third consecutive visit. The team has already shown it has what it takes to win on tarmac this year, having taken victory at the previous round on the surface, Ypres Rally Belgium.
Hyundai Motorsport is looking to bounce back from a challenging and frustrating outing at Rally New Zealand. Ott Tänak and Martin Järveoja were leading after the final stage on Friday, before two time penalties dropped them down the order on Saturday. They finished third for their fifth podium in a row, with team-mates Thierry Neuville/Martijn Wydaeghe and Oliver Solberg/Elliott Edmondson in fourth and fifth respectively.
The 2021 edition of Rally de España operated as a full tarmac event, having previously been one of mixed terrain since 2010. The Catalonian stages are wide and fast, demanding a combination of full commitment and precision from the crews. Hyundai Motorsport's Belgian pairing expertly navigated the tests in 2021 to secure an emphatic win – Neuville's second straight Rally de España victory.
A top-three finish will also be the target for Tänak and Järveoja, who have already taken seven this year in the hybrid-powered Hyundai i20 N Rally1. The Estonians also boast the second most victories so far this season (three). While Dani Sordo has yet to win his home event, he has stood on the podium in Hyundai Motorsport colours on four occasions. He and co-driver Cándido Carrera will be aiming to continue their record of finishing in the top-three at every event this season in front of a passionate and supportive local crowd.
All three crews have conducted a pre-event test to prepare for the first of two back-to-back tarmac events. The team hopes to have a strong showing across the 19 stages, which total 293.77km of competitive distance.
Deputy Team Director Julien Moncet said: "Rally de España has been a successful event for us in the past, where we have taken two wins and seven top-three finishes from our previous visits. We're hoping for a strong result next weekend and hopefully take a hat-trick of double podiums. Our experienced and talented crews know what it takes to be quick there. It certainly won't be an easy feat, however we're feeling confident about our return to tarmac. At the previous event on this surface, Ypres Rally Belgium, we felt we really hit our stride and we hope to continue that performance in Spain. We want to be fighting for victories in these final rounds as we look to finish the 2022 season on a high."
Crew notes: Ott Tänak/Martin Järveoja (#8 Hyundai i20 N Rally1)
• Estonians looking to secure sixth consecutive podium
• Crew has taken three victories this year (Italia Sardegna, Finland, Belgium)
Tänak said: "I would say Spain is the first true tarmac rally of the season, as it is quite smooth and at the same time quite fast. It is always difficult to find the correct balance there, so our confidence in the car will need to be high. The stages have lots of long, fast corners that make you fight with understeer, which is something we will have to get right with the setup of the Hyundai i20 N Rally1. I'm expecting it to be a fun and enjoyable rally, but it also quite important for us to be competitive and fight for as many points as possible. We showed how good our tarmac package is in Croatia and Belgium, and our aim is to continue that streak in Spain."
Crew notes: Thierry Neuville/Martijn Wydaeghe (#11 Hyundai i20 N Rally1)
• Belgian crew won the 2021 edition of Rally de España
• Neuville boasts two victories an additional podium from previous visits
Neuville said: "I think Rally de España is quite straightforward now that it is back to being a full tarmac event. The roads are flat, wide and smooth; the grip level is more or less the same across all of the stages. Being quick there is about getting a good setup and finding a nice flow with the car – then pushing as hard as you can. The gaps are always very small, so it almost feels like you are driving on a race track, fighting for every tenth of a second. It would be nice to take a third win in a row in Spain; we'll certainly be aiming to fight at the front and finish the event on the podium again. We will try our best to perform to our maximum and secure a good result for the team."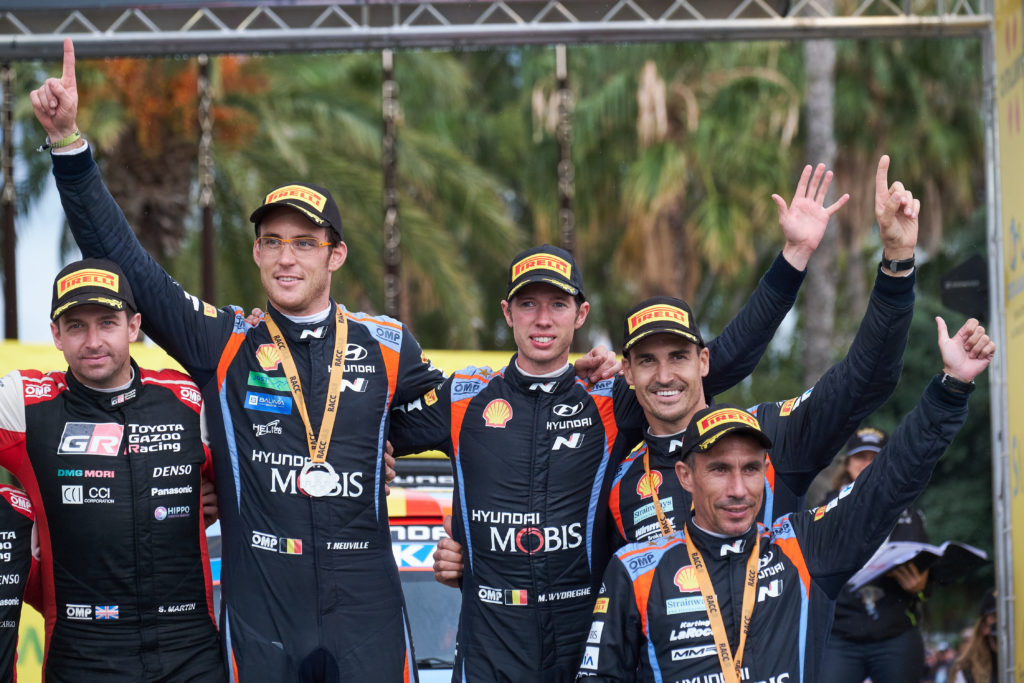 Crew notes: Dani Sordo/Cándido Carrera (#6 Hyundai i20 N Rally1)
• Spaniards have 100% podium success rate this season
• Crew targeting first win of 2022 at home event
Sordo said: "Going to Rally de España is always special for me, as it is my home event and I am lucky to have a lot of support from the fans there. I also really like the roads; they are very nice to drive and suit my style. I am excited to drive the stages with the new hybrid-powered Hyundai i20 N Rally1 car for the first time. It should be an amazing experience. Cándido and I are enjoying a good run of results, which we will do everything in our power to continue in front of our compatriots. There will be lots of people coming out to see the rally, so like every year I will do my best to deliver a win."
WRC2 Overview
Rally de España will be the first tarmac outing of the season for Hyundai Motorsport N's WRC2 crews.
The 2021 edition of the event marked Teemu Suninen's first taste of the Hyundai i20 N Rally2 car. The Finnish driver was quickly on the pace and finished second in the WRC2 category. After a difficult few rallies, Suninen is hoping to hit the ground running on the Catalan roads and improve on his performance from last year.
Fabrizio Zaldivar also brings previous experience of the event from his WRC3 campaign in 2021, where he finished sixth in class. The Paraguayan has continued to grow in confidence with the Hyundai i20 N Rally2, securing his best finish of the season to date at the previous round, Acropolis Rally.
Suninen said: "I have liked Rally de España from the very beginning of my career; it is the most similar to circuit racing with nice, smooth tarmac. Wide long corners make you feel like you are driving on a track, and you have to choose the best driving line to carry your speed. It is quite an unique rally in terms of how you set up the car, so we have to do a lot of work on the pre-event test and get into a good rhythm quickly. The last time I drove a tarmac event was last year in Rally Monza, so almost a year ago, but we had a good outing last year in the Hyundai i20 N Rally2 and finished second in class. I hope we can replicate those results this time out."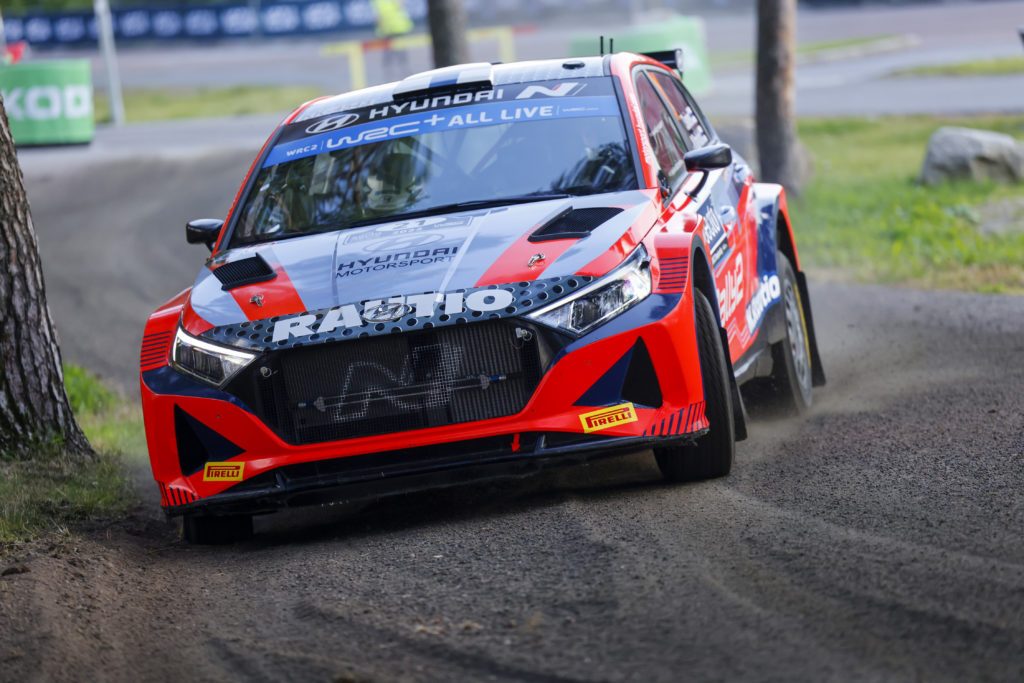 Zaldivar said: "Spain will be our first commitment on tarmac and naturally, we really want to see how much we can achieve with the Hyundai i20 N Rally2. We are learning a little more every day. To prepare for this event, we have organized a very thorough preparation, with three days of testing on different roads in the Catalan region. Our focus in the tests will be to find the most comfortable car to face this challenge. Having engineering support every day will allow us to work very efficiently, and to adjust everything that is necessary. I want to thank my team-mate Teemu as well, who is also helping me with his experience, and he will surely contribute a lot that will benefit me at the next event."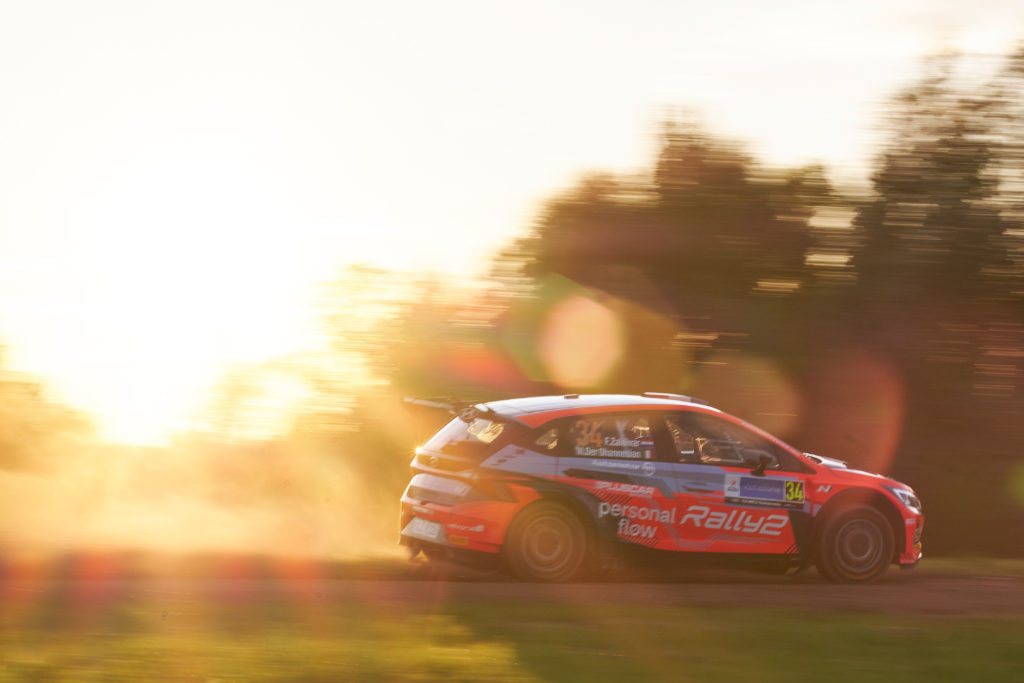 Deputy Team Director Julien Moncet said: "With just two more events for our WRC2 crews, we know they will push hard to achieve a strong end to the season. They are preparing diligently for the event with their pre-event tests in order to find the most competitive set-up for their first tarmac outing of the year. Both Teemu and Mikko and Fabrizio and Marcelo have demonstrated that the Hyundai i20 N Rally2 has winning potential, and we expect this will continue next weekend in Spain."
Weekend at a Glance
• After a Thursday morning Shakedown, Rally de España will officially open with a ceremonial start in the seaside town of Salou – home of the WRC service park
• Friday will see the first running of the event, with two brand-new stages for crews to contend with. Eight stages will total a competitive distance of 118.92km
• Crews will tackle a similar distance in Saturday's seven stages, including the rally's longest stage (El Montmell, 24.18km), finishing with a short sprint in Salou
• Four stages on Sunday will round out the event, with Riudecanyes – which features a 360° donut in front of the fans – bestowed with the honour of the rally's Power Stage.